Based on know-how and technology accumulated through experiences in various production and business facilities,
Xi C&A provides optimized pre-con services by organizing the best pre-con organization in Korea.
By applying pre-con from the initial stage of business, we derive great effects at low cost.





Project period
PreCon Service
Planning / design stage
Interactive / real-time
Wide area
Achievement of client's goal
Conventional method
Construction stage
One-way / time difference
Limited area
Profit per participant

We organize One Team from the design stage to achieve process innovation and
maximize project value by using Smart Construction Tools.
Business
Planning
Basic
Design
Detailed
Design

Construction

Maintenance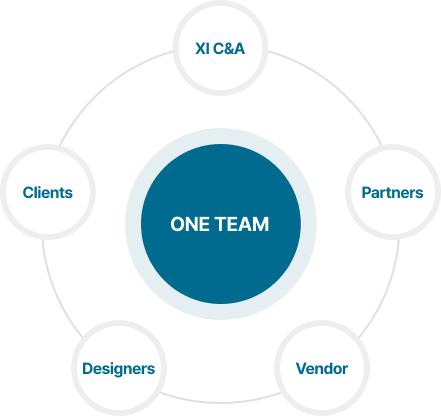 ONE TEAM

XI C&A
Partners
Vendor
Designers
Clients
Process Innovation

Big Room Meeting

Process Mapping
Smart Contruction
Cost reduction

Suggesting VE that meets the needs of the client

Presenting cost trends according to design progress
Air optimization

Re-verification of Critical Path when establishing a process plan

Co-work for process management with experts after selecting a partner
Improvement of design quality

Checking model interference between work types and solving errors

Checking conformity for each construction stage